"A History of Christianity" - A Page-by-Page Criticism of Paul Johnson's Horror Story
by Michael Roll (1982, 50 pages)
Paul Johnson's 'A History of Christianity' was published in 1976 by Weidenfeld and Nicholson.
"Your little booklet is terrific. It deserves wide distribution. It highlights the absurdity of the situation in this country where everybody pussyfoots around a religion that nobody (except the wilfully ignorant) believes any more. This has been the state of things for over a century now."

Tony Grist, ex-priest, now freelance journalist
September 2002: The Campaign has now received enough funds to reprint this important pamphlet. Many thanks to those who donated so generously towards the costs of reprinting.
Order your copy from: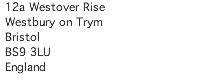 Price: £2
For postage to Europe, please add £2 to UK postage.
For postage outside Europe, please add £5 to UK postage.
Queries: Contact the Webmaster
"Whenever we read the obscene stories, the voluptuous debaucheries, the cruel and torturous executions, the unrelelnting vindictiveness with which more than half the Bible is filled, it would be more consistent if we call it the word of a demon than the word of God. It is a history of wickedness that has served to corrupt and brutalise mankind; and for my part I detest it as I detest everything that is cruel."

Thomas Paine: 'The Age of Reason' (1794)
| | |
| --- | --- |
| Related material on this site: | |
Tribune (April 25, 2003): A review by Prof. Robert Giddings of Michael Roll's pamphlet "A History of Christianity" - A Page-by-Page Criticism of Paul Johnson's Horror Story
August 2004: We are currently preparing a revised edition of this pamphlet.